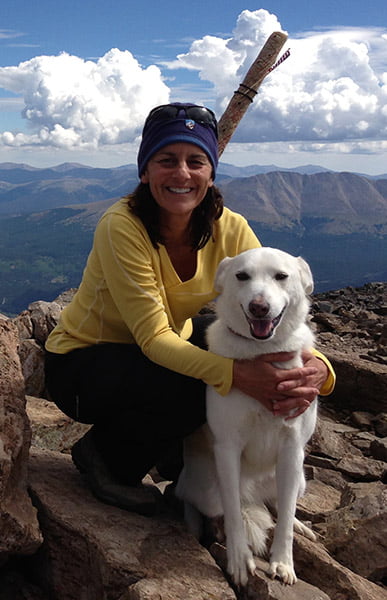 Lisa McCarthy
DVM, Owner
Dr. Lisa McCarthy is a native of El Paso, Texas and a graduate of Texas A&M University, where she received her Doctor of Veterinary Medicine degree in 1989. She also earned a Masters of Business Administration from Colorado State University in 2005, making her a proud "double Aggie." Over 30 years of practice Dr. McCarthy has provided small animal health care in both private and shelter settings and has served as managing Medical Director in many practices. Her favorite areas of practice are surgery, dentistry and preventative care. Honoring and supporting the special bond that clients have with their pets is the overreaching motivation for Dr. McCarthy's practice life.
Dr. McCarthy has frequently travelled internationally to provide veterinary care to underserved communities. In 2014 she established a non-profit organization, Vet Treks Foundation, which provides veterinary services in rural areas of Kenya, as well as education and veterinary equipment to Kenyan veterinarians, enabling them to provide ongoing care in their communities.
Other passions pursued by Dr. McCarthy include travel and outdoor adventure. She has rowed the Grand Canyon, summited Kilimanjaro and many of Colorado's "14er's", and she followed the route of Sir Ernest Shackleton to Antarctica.
Dr. McCarthy shares her home with two shelter dogs: eleven year old Poppy, who lives for fetching and fourteener's, and three year old Talulah, who lives for snacks and snuggles.
Midtown Veterinary Medical Center is the culmination of 30 years of learning best practices and Dr. McCarthy's dream come true. She is excited to be able to provide the very best in medical care for pets and service to their people.
Kathy Paschall
Groomer
Certified Master Groomer, Kathy Paschall, has been grooming for 25 years and is known for her gentle touch and compassionate demeanor with her four-footed clients.
Kathy owned and operated All Pets Grooming Salon in Loveland for many years before moving to the San Diego, California area where she was voted Groomer of the Year for four consecutive years. She has now been back in Ft. Collins for seven years working her magic touch on our local dogs and cats.
Kathy has an extensive background in all aspects of the grooming industry. She attends several grooming conventions each year to stay current on new products and techniques, as well as to meet and network with other professionals in the field. She is well-versed in her knowledge of all breeds of dogs and cats. She personally has an Australian Shepherd named Cash and a Great Pyrenees named Snowy.
Kathy enjoys the local music scene in Ft. Collins, as well as spending time with her family, including husband Wes and their grandchildren.
Bronwen Foster
Veterinary Acupuncturist
Dr. Bronwen Foster was born and raised in Windsor, Colorado. Bronwen received an undergraduate degree from the University of San Diego and then returned home to her native state. She received her doctor of veterinary medicine degree from Colorado State University and has enjoyed practicing small animal veterinary medicine and surgery for the last eighteen years.
Bronwen has always been drawn to natural and holistic healing modalities and while she values the importance of Western medicine's diagnostic tests and treatments, she remains passionately fascinated by a body's natural response for healing when the appropriate tools are provided.
Bronwen completed her veterinary acupuncture certification for both large and small animals, through the Chi Institute of Traditional Chinese Medicine in Florida and is thrilled to provide this healing modality along with nutritional support to enhance the health of her patients. You can learn more about the healing attributes of these treatments on her website:
www.animalelevation.com
Bronwen volunteers for ViDAS (a veterinary team who provides no cost pet sterilization surgeries and vaccines to foreign communities in need), she teaches a dentistry lab for the veterinary technician students at Front Range Community College, and is a communication coach for the junior year veterinary students at Colorado State University.
During her free time Bronwen enjoys spending quality time with her daughter and their cat "Captain Butch", from whom they "rent" space. Bronwen is passionate about family, friendships, Yoga, exercise, good food, travel and the mountains. She especially enjoys witnessing the healing results of her work for her patients and their owners.
Kassey Hill
Technician
Fear Free Certified
Kassey joins the Midtown Veterinary Medical Center with over 6 years of experience as a technician and 16 years of experience in the animal care industry. Her passion for animals started at a young age and she was eventually able to become a member of a local 4H club where she participated in the equine and canine programs alongside the leadership track. Although Kassey is not a CO native she has enjoyed the Fort Collins area as her home for most of her life. Kassey has 2 dogs, Benny a 10year old female whippet and McFly a 7yr old male border terrier. During her free time, she enjoys hiking in the beautiful rocky mountains and competing with her dogs in different dog sports like barn hunt, scent works, lure coursing and dock diving.
Karen
Technician
Karen is originally from Folsom, Pennsylvania and moved to Colorado in 2002. She graduated in May 2013 from the Front Range Community College Veterinary Technician Program and became a Certified Veterinary Technician in August 2013. When not working, Karen enjoys spending time with her husband Mike and their very energetic English Setter Wyatt, travelling, camping, going to concerts, hanging with friends and just relaxing at home..
Abby Gaut
Receptionist/Vet Assistant
Abby is Originally from Northern Indiana and had worked as a dog bather and volunteered at local dog boarding facilities. She became certified as a veterinary assistant through animal behavioral college in 2017 before moving to Colorado in 2018. She continued her education and became a Certified groomer in 2019. When not working she enjoys camping and hiking the mountains with her dog and Enjoys spending her evenings playing music, cooking and being with friends.