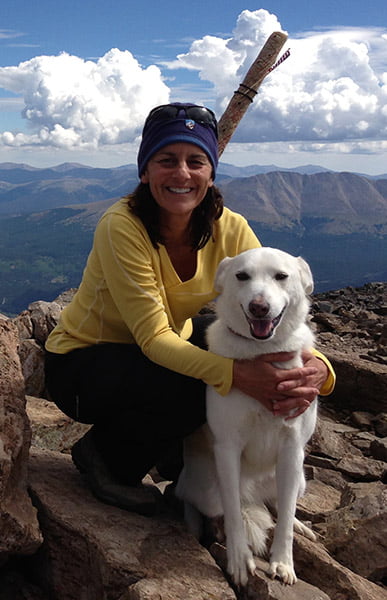 Lisa McCarthy
DVM, Owner
Dr. Lisa McCarthy is a native of El Paso, Texas and a graduate of Texas A&M University, where she received her Doctor of Veterinary Medicine degree in 1989. She also earned a Masters of Business Administration from Colorado State University in 2005, making her a proud "double Aggie." Over 30 years of practice Dr. McCarthy has provided small animal health care in both private and shelter settings and has served as managing Medical Director in many practices. Her favorite areas of practice are surgery, dentistry and preventative care. Honoring and supporting the special bond that clients have with their pets is the overreaching motivation for Dr. McCarthy's practice life.
Dr. McCarthy has frequently travelled internationally to provide veterinary care to underserved communities. In 2014 she established a non-profit organization, Vet Treks Foundation, which provides veterinary services in rural areas of Kenya, as well as education and veterinary equipment to Kenyan veterinarians, enabling them to provide ongoing care in their communities.
Other passions pursued by Dr. McCarthy include travel and outdoor adventure. She has rowed the Grand Canyon, summited Kilimanjaro and many of Colorado's "14er's", and she followed the route of Sir Ernest Shackleton to Antarctica.
Dr. McCarthy shares her home with two shelter dogs: eleven year old Poppy, who lives for fetching and fourteener's, and three year old Talulah, who lives for snacks and snuggles.
Midtown Veterinary Medical Center is the culmination of 30 years of learning best practices and Dr. McCarthy's dream come true. She is excited to be able to provide the very best in medical care for pets and service to their people.
Caitlin Hunter
VMD, Associate Veterinarian
Fear Free Certified
Dr. Caitlin Hunter is originally from Downingtown, Pennsylvania. She earned her undergraduate degree in Biochemistry from Smith College in Northampton, Massachusetts while working as a veterinary assistant at a small animal hospital. After college, she moved back home to obtain her Doctor of Veterinary Medicine degree from the University of Pennsylvania.
Dr. Hunter began her career working on horses, completing an internship at Rood and Riddle Equine Hospital in Saratoga Springs, New York. She values all her experiences working on large animals, and is thankful for the different perspectives it provided, but ultimately gravitated back to small animal medicine. She especially enjoys dentistry, nutrition, and internal medicine. Her goal is to empower her clients with the knowledge to make the best decisions for their pets and families as a whole.
Dr. Hunter and her fiancé moved to Fort Collins in 2018 to take advantage of the many great outdoor adventures available. They live with their three pets, a Rottweiler named Max, and two cats named Clarissa and Peaches. Outside of work, you can find them hiking throughout Colorado and exploring neighboring states. Closer to home, Dr. Hunter enjoys baking desserts and riding her horse, an off-the-track thoroughbred named Bubbles.
Kersey Wahlquist
DVM, Associate Veterinarian

Dr. Wahlquist is originally from Las Vegas, NV, and graduated from CSU vet school. After graduation, she worked general practice for a couple of years and then emergency the last 3 years back in her hometown, but is happy to be back in Fort Collins! She has a strong interest in emergency medicine and nutrition. She has experience working with all types of animals- dogs, cats, rabbits, guinea pigs, hedgehogs, reptiles, birds, and wildlife.
Dr. Wahlquist is a crazy cat lady with two unrelated twin cats, Tigger and Lio. She is a former bodybuilder that still does weight lifting and swimming on the side and is an avid fantasy reader.
Bronwen Foster
Veterinary Acupuncturist
Dr. Bronwen Foster was born and raised in Windsor, Colorado. Bronwen received an undergraduate degree from the University of San Diego and then returned home to her native state. She received her doctor of veterinary medicine degree from Colorado State University and has enjoyed practicing small animal veterinary medicine and surgery for the last eighteen years.
Bronwen has always been drawn to natural and holistic healing modalities and while she values the importance of Western medicine's diagnostic tests and treatments, she remains passionately fascinated by a body's natural response for healing when the appropriate tools are provided.
Bronwen completed her veterinary acupuncture certification for both large and small animals, through the Chi Institute of Traditional Chinese Medicine in Florida and is thrilled to provide this healing modality along with nutritional support to enhance the health of her patients. You can learn more about the healing attributes of these treatments on her website: animalelevation.com
Bronwen volunteers for ViDAS (a veterinary team who provides no cost pet sterilization surgeries and vaccines to foreign communities in need), she teaches a dentistry lab for the veterinary technician students at Front Range Community College, and is a communication coach for the junior year veterinary students at Colorado State University.
During her free time Bronwen enjoys spending quality time with her daughter and their cat "Captain Butch", from whom they "rent" space. Bronwen is passionate about family, friendships, Yoga, exercise, good food, travel and the mountains. She especially enjoys witnessing the healing results of her work for her patients and their owners.
Kassey Hill
Technician
Fear Free Certified
Kassey joins the Midtown Veterinary Medical Center with over 6 years of experience as a technician and 16 years of experience in the animal care industry. Her passion for animals started at a young age and she was eventually able to become a member of a local 4H club where she participated in the equine and canine programs alongside the leadership track. Although Kassey is not a CO native she has enjoyed the Fort Collins area as her home for most of her life. Kassey has 2 dogs, Benny a 10year old female whippet and McFly a 7yr old male border terrier. During her free time, she enjoys hiking in the beautiful rocky mountains and competing with her dogs in different dog sports like barn hunt, scent works, lure coursing and dock diving.
Heather Spaun
Technician
Heather graduated from UC San Diego in June 2020 with a Bachelor's degree in both General Biology and Cognitive and Behavioral Neuroscience. She is very passionate about animal welfare and is on the path towards veterinary school. Beyond schooling, Heather has worked with all sorts of animals in various settings – as a pet sitter, stem cell therapist, research assistant, volunteer, veterinary technician *and *assistant! Heather has three family dogs – Lucy, Bella, and Auri – back home in Southern California.
She found Auri on the streets with multiple broken bones and ticks galore. Unable to leave her behind, Heather took Auri home that day and slowly nursed her back to health! Heather also has a kitten, Maggie, whom she adopted from another vet clinic she worked at previously. Maggie was surrendered to the clinic with severe damage to both her eyes. Miraculously, they were able to save both eyes with some medication and extra TLC. She is now a happy, healthy kitten who only runs into things occasionally! Needless to say, Heather has a fervor for helping animals and can't wait to help take care of yours!
Madison Rivera
Technician
Though Madison is from the small town of Elizabethtown Pennsylvania, she is Colorado through and through. After 6 years of clinical experience, Madison knew that she wanted to go to veterinary school. With a degree in biochemistry and a minor in criminology from Messiah University, Madison decided to continue pursuing her DVM dream in the Colorful Colorado with the team at Midtown Veterinary Medical Center. During her free time, she enjoys bouldering in the summer, skiing in the winter, and any other outdoor activity in between. If you have a moment, ask Madison about her dog, Oliver!
Julia Milano
Technician
I moved to Colorado in August of 2020 and am originally from the NW suburbs of Chicago. I'm currently in the Penn Foster Technician program to get certified and be able to move forward in my veterinary career. I've always had a passion for animals and want to eventually work with exotics and large animals.
Aside from that, I have a love for art, yoga, live music, the great outdoors, & most importantly my pups Gypsy and Whiskey!
Jane Homann
Technician
Jane Homann has been a veterinary technician for over 12 years and absolutely loves it. Originally from Sturgis, SD, she moved to Fort Collins with her family when she was young. She's always had a passion for taking care of animals so the field of veterinary medicine made perfect sense!
When she's not working, she enjoys pet-sitting. During her fifteen years of experience, she has cared for dogs, cats, rabbits, birds, guinea pigs, snakes, sugar gliders, and even some farm animals. Jane also enjoys chilling with Crash, her three-legged cat, playing softball, helping with church activities, watching Asian television/movies, and spending quality time with her twin sister and the rest of her family.
She can't wait to meet you and your furry family here at Midtown Veterinary Medical Center!